Shanghai Nissetsu Co., Ltd. performs following.
1. LOW COST by productions with our contract manufacturers in China.
2.HIGH QUALITY by strong technical supports from the alliance company in Japan.
3.EXPORT / IMPORT TRADING - We export the product that was made in China to our valuable customers in Japan.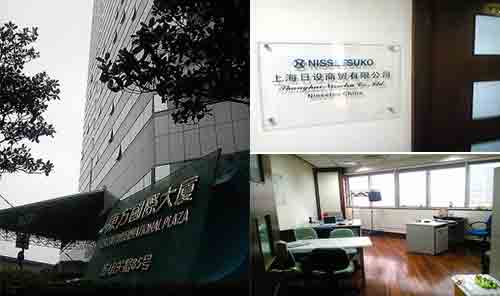 Outline
Company Name
Shanghai Nissetsu Co., Ltd.
Foundation
May, 2011
Capital
US$ 235,000.00
Office Address
No. A 1804, Orient International Plaza, No. 85 Lou Shan Guan Road, Shanghai, China
Phone
+86-21-3303-0061
Businesses
Sales, Import & Export, and Maintenance for Material Handling System / FA Equipment.
Sales and Import & Export for Workpiece / Purchases.
Access Map
20 minutes by taxi from Shanghai Hongqiao Airport
50 minutes by taxi from Shanghai Pudong International Airport
10 minutes by walk from "Loushanguan Road" Station of Subway Line 2